My Horses
---
---
---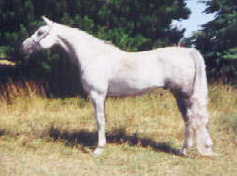 To see more pictures and read more about JB and his Pedigree, click on his Picture.
This is JB or No Regrets. JB is a 1990 Gray 15 hand Arabian Gelding.
---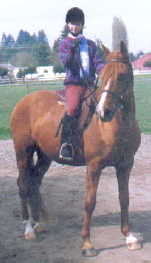 My mom and my sister also share a horse named Fire. She is 15 hands and 26 years old. To find out more about fire, click on her picture.
---
---
---
RF No Regrets (JB)
---
---
---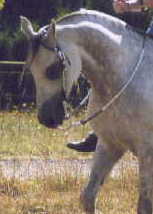 RF No Regrets
El Baraka(by El Hilal)X Jenni Risadda(out of Martha Washington)
Click here for further pedigree
I purchased this beautiful Boy in April of 1999 from my Cousin. He is a 15 hand 1990 Grey Arabian Gelding. He is a bit lazy, but is getting a lot better. He used to tend to be a little bit of a bucker, but he is learning that that isn't allowed and that he just needs to go forward politely. He is now competitively competing in, Hunter, lower level Dressage, Western, low Jumping, Showmanship, Halter, Gaming, and trail. am hoping to soon add driving, Reining, and Saddleseat to that list soon. He has proved what a great horse he can be. I am very pleased at the show results he has been turning out.

Further Pedigree should be up shortly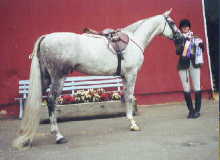 JB and I with our Grand Champion from Hunter Hack, and Reserve Champion from Hunt Seat Equitation at Fair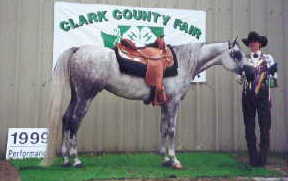 JB and I after Getting our Grand Champion in Western Equitation at Fair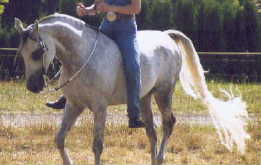 jogging western bareback, September of 1999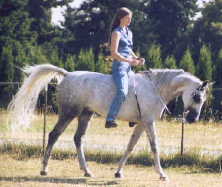 jogging western bareback, September of 1999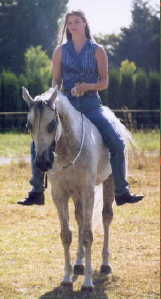 Standing western Bareback

JB in a field a few years before I got him.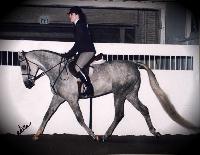 JB trotting at a show with my cousin

Standing up from a nap

Nap Time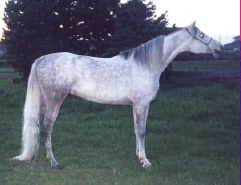 Working on halter, when I first brought him home, April of 1999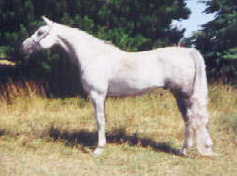 Working on halter, August of 1999.
---
---
---