My Previous Horses
---
---
---



My first very own pony was a little Miniture horse mare named Spice.
(Click on the picture to see more on Spice)
---
My next pony was a little shetland mare named Daisy. I don't remember riding her much, because soon after we got her she went too blind to ride, our other pony, my moms, used to show her to her food. We finally had to have her put down because she was getting to dangerous because of the blindness.

---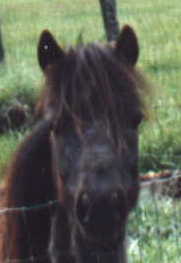 When I couldn't ride Daisy anymore, I stole my moms Class B Shetland or Shetland/Hackney. My mom said " you can't ride him, he is too much horse for you." But I said I will ride him, and determined me, did ride him. I loved him a lot. I out grew him though when I was around 5 or 6. I have a lot of interesting memories of him. He was a very hyper pony. One time I was riding him and he ran up a sand pile and slipped and I ended up sliding off, as I was bareback, then he slid and ended up standing on my hip. It hurt but believe it or not I got back on him and rode him again that day.
---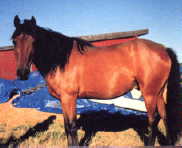 After him I had a QH/Hackney pony. I only had him for a few months so I don't remember much of him, except that he was was a bay, and pretty.

---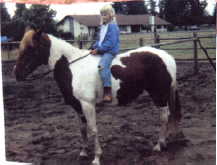 After him I got a Paint mare, barely 14.2 hands high. I loved her a lot. But I wasn't allowed to canter on her. However, she was good enough for me to take her out of the pasture and ride her in the fields near our house, which are now houses(YUCK). One time she got stung by a bee in the ear and just shook her head. But then another time she went crazy and started bucking and rearing and not even my mom could ride her, we ended up leading her home and I rode my moms horse Fire.


---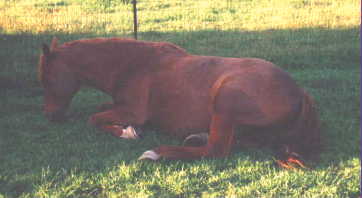 I never have really liked fire much, but I rode her before I had my first pony. I have taken her to a few shows and done excellent, getting High point and reserve high point every time, that I showed in enough classes. For some reason I have always found her to easy. Of coarse I do remember falling off her once. It was because a pan slid down a goat ramp with roofing material on it and it spooked her. I fell and hit the fence. But I though it was fun. I was very strange then, I was only like 5. And yes, we do still have fire. She is listed on the My Horses page, with more pictures.

---
During this time we also had a morgan gelding named Classical Jazz, I never her rode him, but I thought he was gorgeous.
---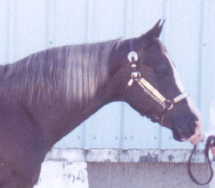 At 8 I got my Morgan Mare given to me and we sold Jazz to have room for her. She was my horse for 10 years.
(Click on the picture to see more on Allouette)
---
In 1994 I got a Thoroughbred. We bought her very green broke at 8 and been in 8 homes, been abused, with tons of problems. The owner said that I would never get clippers near her, she reared, she was afraid of whips, she knew pretty much nothing, etc. I rode her for a year and got her out of everything, she even learned to clip. then the rearing came back and she happend to get her front feet over a gate with me on her. This made my parents say this is enough. So we had to sell her. But if we hadn't bought her she probably would have gone for dog food. I saw her true potential and rescued her trained her and we sold her to an awesome Dressage home. The owner wouldn't sell her for the world. I miss her a lot though. She taught me so much in that year.
---

Alibi is a 6-7 year old Thoroughbred Mare, who I got in Apirl of 1998 and just sold in Spring of 1999.

(Click on the picture to see more on Alibi)
---

Kit, the little red dun QH I trained from 18 months to 5 years old.
(Click on the picture to see more on Kit)
---
---
---
Zan Parr KitCat Bar
---
---
---

In Fall of 1995 we got Kit who was then 18 months old. I did all the training on her. We Sold her in the June of 1999, as a 5 year old. Her best event was always showmanship, anyone could take her in a showmanship class. She always plants her pivots, and to set up you just look at her, sometimes you have to intimitade her a little first though. It's not that hard though, my 9 year old sister can do it. Kit is a very well trained horse, when she wants to be. She is really good at western, though we both have limited exerience with it, I think she is a natural. Her wonderful movement makes her a great English horse though. She can be a bit of a handful when she is hyper and being ridden. But when she gets some of the energy worked out, she is generally fine. She has a nice walk, jog, trot, extended trot, canter, hand gallop, flying changes, etc. She is learning to do english, western, jumping, and Dressage. If I were keeping her, I would work on teaching her to drive too. She already Groud drives wonderful. Some pictures of Kit and I.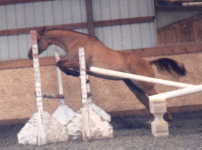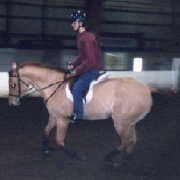 Heres Kit playing dead


and here is a picture of her just laying in the paddock

Click Here to go Back to my Idaho Page
---
---
---